$755 billion of global investment for the energy transition in 2021
23rd Mar 2022
A report by BloombergNEF found that global investment in the energy transition grew by 27 per cent in 2021, reaching a new record of $755 billion. Countries are stepping up their climate agendas, with research finding that investment rose in almost every sector, including renewable energy, energy storage, electrified transport, nuclear and hydrogen. Renewable energy, such as wind and solar, received the most investment at $366 billion. These increased levels of investment in the energy transition globally appear to be here to stay, despite the Chinese government recently ordering its coal companies to boost domestic output capacity by 300 million tonnes.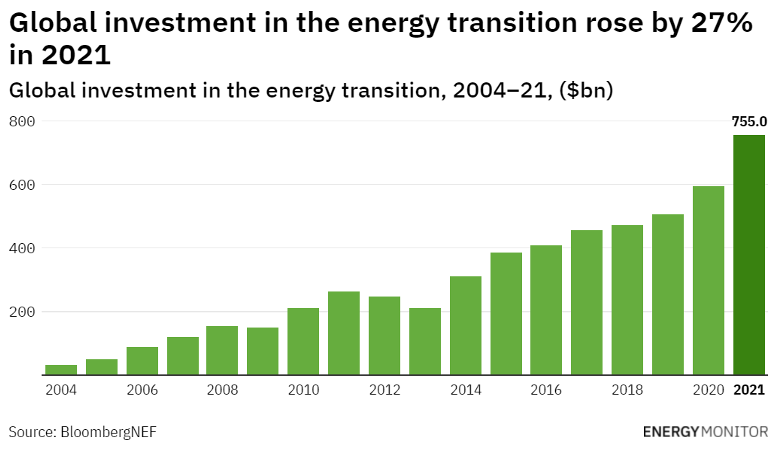 Additionally, recent developments in Ukraine have led to calls for energy independence from Russia. According to the UK government, Russian imports account for eight per cent of total UK oil demand, and just under four per cent of natural gas. Now, it appears that the government is working on an energy strategy to depart from importing gas from Russia, whilst simultaneously keeping energy affordable and hitting climate change targets. According to reports, the main areas of focus are on nuclear and renewable energy, making homes more energy efficient, and increasing North Sea oil and gas production. Referring to renewables, Zoisa North-Bond said that the UK would need to add an additional 9.6GW to the existing 14GW of wind capacity in order to remove dependency on Russian gas imports.
Despite people trying to be increasingly careful with their electricity usage, it's not always simple. Residents living near RAF Fylingdales in North Yorkshire have been refused an upgrade to smart meters because the signals may interfere with the nuclear missile warning system. This is due to the radio frequencies that smart meters use to send data usage to suppliers being too similar to those used by RAF Fylingdales. People in the area now must wait until a new type of smart meter that operates at a different frequency has finished development. The Daily Telegraph recently revealed that new legal changes will allow the energy regulator, Ofgem, to send information about usage from smart meters to suppliers every 30 minutes by default.